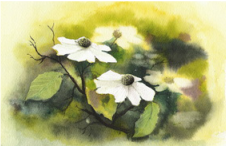 From the moment when I first felt the passion inside me to paint, the effect of mixing water and pigments attracted me. I have been painting in watercolor, attempting to overcome its unique difficulties.
The uniqueness of watercolor comes from water, witch is the one of the most essential elements of nature.
Watercolor delivers lucid and clear expressions of nature. Nature always leadsus to peace and painting that nature onto my paper gives me peace.
I hope that other people will feel that peace when they gage at the nature in my painting.
---